World's First 3D-printed Car To Be Live Printed, Assembled During IMTS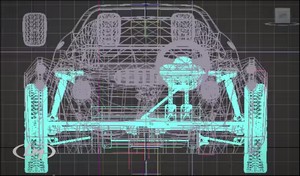 History will be made when the world's first 3D-printed car drives out of McCormick Place in Chicago, Ill. During the six-day IMTS – The International Manufacturing Technology Show 2014, the vehicle will be printed over 44 hours then rapidly assembled by a team led by Local Motors with the historic first drive set to take place the morning of Saturday, September 13, 2014.
Called the Strati, the vehicle will be 3D printed in one piece using direct digital manufacturing, (DDM), which is the first time this method has been used to make a car. Mechanical components, like battery, motor, wiring, and suspension are sourced from a variety of suppliers, including Renault's Twizy, a line of electric powered city cars.
"The Strati was designed by our community, made in our Microfactory and will be driven by you," said John B. Rogers, Jr., CEO of Local Motors. "This brand-new process disrupts the manufacturing status quo, changes the consumer experience and proves that a car can be born in an entirely different way."
The innovative and bold vehicle uses the material science and advanced manufacturing techniques pioneered at the U.S. Department of Energy's (DOE) Manufacturing Demonstration Facility at Oak Ridge National Laboratory (ORNL).
Read more at Local Motors
See also the IMTS 2014 website