World Premiere on Hoover Dam
Almost 80 years after its official opening, the famous Hoover Dam was the setting for the World Premiere of the Freightliner Inspiration Truck on May 5th, 2015. With the Freightliner Inspiration Truck, Daimler introduced the world's first autonomous truck licensed to drive on public roads.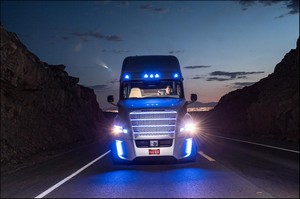 In July 2014 Daimler Trucks provided the world's first demonstration of an autonomous truck in action when the Mercedes-Benz Future Truck 2025 drove along a cordoned-off section of an autobahn. The Inspiration Truck is now the next milestone on the road to series production of the Highway Pilot system. In the field of commercial vehicles, the Highway Pilot system is the only one in the world to feature the kind of sensor and camera technology that makes operation of the Freightliner Inspiration Truck possible – from initial acceleration to the speed limit for trucks.
Leadership role in autonomous driving
As a global commercial vehicle manufacturer Daimler is demonstrating how intelligent technologies can be rolled out across Group brands within the shortest time frame. Daimler Trucks' worldwide platform strategy in particular allows economies of scale to be made. A look at the technical systems that will be required for autonomous driving in the future and a comparison with the components in use in today's passenger cars and commercial vehicles show that Daimler – with its Mercedes-Benz, Freightliner Trucks, Detroit Diesel and Fuso brands – is already in a leading position today. In doing so, the Group secures comprehensive know-how to optimally develop autonomous vehicles for highway traffic.