Wood-inspired cement with high strength and multifunctionality
Nature often offers promising inspiration for biomimetic man-made materials. In a new report now published in Advanced Science, Faheng Wang and a team of scientists in advanced materials, engineering and science in China developed new cement materials based on unidirectionally porous architectures to replicate the designs of natural wood.
The resulting wood-like cement material showed higher strength at equal densities, alongside multifunctional properties for effective thermal insulation, water permeability and easy adjustment for water repulsion. The team simultaneously achieved high strength and multifunctionality to make the wood-like cement a promising new building material for wood-mimetic designs with high performance. They presented a simple fabrication procedure to promote better efficiency during mass production with applications suited across other material systems.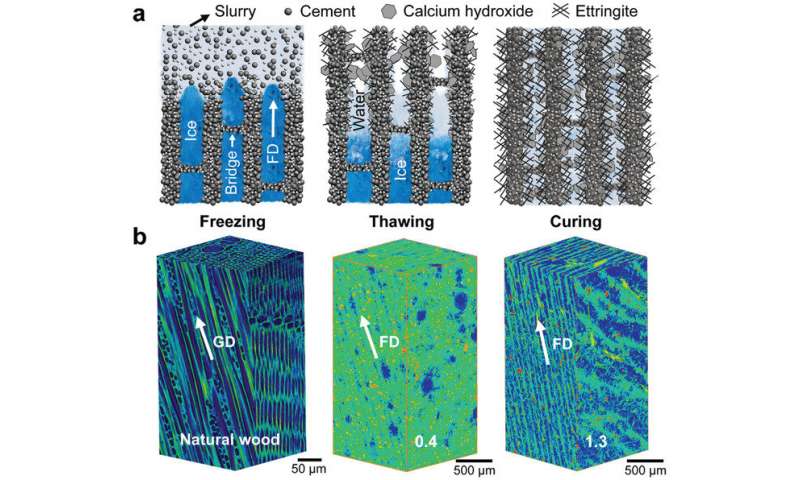 Porous cement-based materials possess low thermal conductivity for heat insulation, high sound-absorbing efficiency, outstanding permeability for air and water, while maintaining light weight and fire resistance. During the experiments, researchers developed wood-like cement with unidirectionally porous architectures formed via a bidirectional freezing treatment method. The process allowed bridges to form between the constituents of the structure, the team then thawed the fully frozen bodies until the ice gradually melted and the cement hardened.
Read more at Phys.org
Image Credit: Advanced Science
-jk-