With a Touch of Sunlight, This Device Kills 99% of Bacteria
The researchers at the Department of Energy's SLAC National Accelerator Laboratory and Stanford University have created a nanostructured device, about half the size of a postage stamp, that disinfects water much faster than the UV method by also making use of the visible part of the solar spectrum, which contains 50 percent of the sun's energy.
In experiments reported in Nature Nanotechnology, sunlight falling on the little device triggered the formation of hydrogen peroxide and other disinfecting chemicals that killed more than 99.999 percent of bacteria in just 20 minutes. When their work was done the killer chemicals quickly dissipated, leaving pure water behind.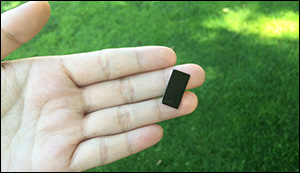 Under an electron microscope the surface of the device looks like a fingerprint, with many closely spaced lines. Those lines are very thin films – the researchers call them "nanoflakes" – of molybdenum disulfide that are stacked on edge, like the walls of a labyrinth, atop a rectangle of glass.
By making their molybdenum disulfide walls in just the right thickness, the scientists got them to absorb the full range of visible sunlight. And by topping each tiny wall with a thin layer of copper, which also acts as a catalyst, they were able to use that sunlight to trigger exactly the reactions they wanted.
Read more at Stanford University
Image Credit: Stanford University
-jk