Wireless hybrid bus charging trial set for London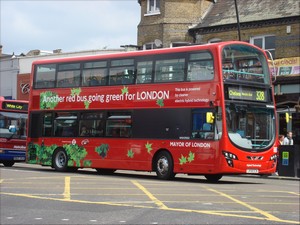 Four hybrid buses in East London will next year trial technology which will enable them to wirelessly charge while waiting at bus stands, Transport for London (TfL) announced on August 27.

TfL said the technology being trialled would enable the vehicles to operate in pure electric mode for a "significant period of the time they are in passenger service", contributing to lower running costs and tailpipe emissions. The buses have a diesel engine that will be used when the battery power on the bus is depleted, but it is anticipated this will only be a "small amount of the time", meaning emissions on these vehicles are "greatly reduced", TfL said.

In addition, the electric hybrid buses are expected to offer "much lower" noise and vibration levels compared to conventional diesel vehicles and lower fuel use.
The trial is designed to establish whether the technology can stand up to the rigours of operating in an "intense urban environment such as London" and will help TfL understand whether electric-only mode could be realistically achieved, and whether any modifications would need to be made.
TfL added that the trial would help it to "develop plans for greater use of electric buses in central London in the future, contributing to the Mayor's vision of a central London Ultra Low Emission Zone".
Read more at londontransport.co.uk