Will The Hyperloop Arise In Slovakia?
A train faster than any other on earth is being explored by the government of the Slovak Republic and Hyperloop Transportation Technologies (HTT), a Southern California startup.
"Explore" is the restrained word used in the joint press release, which set no deadlines and mentioned no sum of money. Even so, this represents the first solid evidence that anyone might build a large-scale version of the Hyperloop, Elon Musk's 2013 concept for shooting passenger-carrying pods through partially evacuated tubes at just-barely subsonic speeds.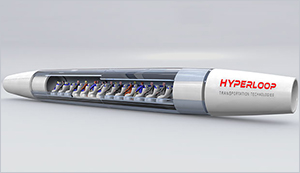 The release speculated on several possible routes originating in the capital city of Bratislava, in eastern Slovakia. One might run the 400 km (250 mile) to Košice, in the western part of the country. HTT says the trip would take only 25 minutes at full speed—a bit more than 1,200 km per hour (760 mph). A 70-km eastward route to Vienna, Austria, would take 8 minutes.
"Hyperloop in Europe would cut distances substantially and network cities in unprecedented ways," said Vazil Hudak, Minister of Economy of the Slovak Republic, in the statement. "A transportation system of this kind would redefine the concept of commuting and boost cross-border cooperation in Europe."
Read more at IEEE Spectrum
Image Credit: Hyperloop Transportation Technologies
-jk-