Where is the power socket on the race track
Friedrichshafen. Over the next couple of days, the trade fair grounds in Friedrichshafen will once again be transformed into a race track. This is the eighth time that ZF has invited the sponsored Formula Student racing teams to come to Friedrichshafen.
The students will be able to put their self-designed racing cars through their paces and prepare for the first big racing event at the Hockenheimring. A total of 19 racing teams from Germany, the Netherlands, and Switzerland registered for the ZF Race Camp, will run through various racing disciplines and share experience. They line up on the grid with 21 vehicles - including 13 electric-powered racing cars. 500 students in total have gathered on the trade fair grounds to prepare for the Formula Student series and give their vehicles the necessary finishing touch beforehand.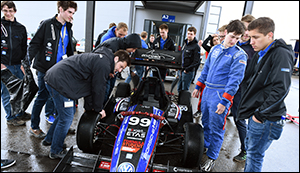 Yet the cooperative effort does not only require technical knowledge and design know-how; students also need excellent organizational, project management, and costing skills. The intelligent combination of sound engineering training and enthusiasm for the emotional subject of motor racing is what makes the Formula Student design competition so special.
Since 2002, ZF has been strongly committed to Formula Student. Today, 36 university teams are sponsored. In addition to know-how, ZF supports the international young talents with high-tech racing products, financial help, or team-building measures.
Read more at ZF
Image Credit: ZF
-jk-