When wheelchair design can take many steps up
Advances in electric wheelchairs lagged behind so many advances in items such as smartphones, electric cars, drones; even robotic vacuum cleaners improved.
Scewo wheelchair was founded by an interdisciplinary team of four university students from Swiss Federal Institute of Technology (ETH) in Zürich or at Zurich University of the Arts. The chair is 65cm wide and 105cm long with a total weight of 101kg.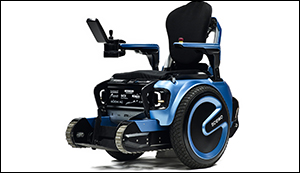 According to the Scewo site, "The self-balancing technology enables rotating on spot and driving over curbs without getting stuck. The big wheels can go over obstacles without entanglement."
Looking at the chair, designboom talked about the chair's modes. Driving mode, stair mode, safe mode (stationary), elevated mode (The tracks and the small wheels at the back can be lowered together below the main wheel to rise the seat up. This enables eye-to-eye communication) and track mode to overcome slippery surfaces (like snow, loose gravel) make the chair quite useful.
Read more at Tech Xplore
Image Credit: Scewo
-jk-