Wave Swell Energy project to use its technology to harness power of waves
Wave Swell Energy, an Australian company, has technology to convert the energy in ocean waves into clean, emissions-free electricity. It can be transmitted to shore and into the grid. It could also be used to power an onboard or shoreline located desalination facility.
The news is that Wave Swell Energy is developing a 1 MW wave energy project intended for ocean installation off the west coast of King Island, between Tasmania and the Australian mainland. New Atlas said a full-size unit is due to be up and running off King Island by mid-2018.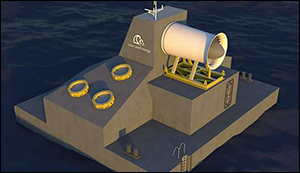 Both turbine and generator in this device are above the waterline, meaning there is less maintenance. What is more, servicing can be carried out without the need for scuba equipment. The devices measure 20 meters by 20 meters and are 18 meters tall. Of this, 8 meters projects above the waterline. New Atlas said that the system's peak output is rated at 1 MW, with an operating average of about 470 kW.
Read more at Tech Xplore
Image Credit: Wave Swell Energy
-jk-