UVA physicists paving way for wider use of new solar cell materials
Despite the potential for powering the world with energy from the sun ­– the most abundant source of renewable energy – only about 1 percent of the world's energy production currently comes through solar cell technology. That's because solar cells are expensive to produce and are susceptible to efficiency reductions over time.
For this reason, scientists continue to seek new solar cell materials that will overcome these deficiencies. One of the most promising is a class of materials discovered in 2009: hybrid organic-inorganic perovskites, or HOIPs. These are extremely lightweight and flexible materials that are inexpensive to produce, compared to traditional silicon-based cells. At 22 percent (or better) efficiency at converting energy from the sun into electricity, they are approaching the 25 percent energy-producing efficiency of silicon cells.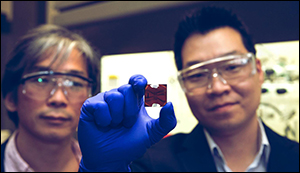 By microscopically probing the materials using neutron-scattering experiments and computer simulations, scientists and engineers at the University of Virginia, with colleagues at the NIST Center for Neutron Research, the Oak Ridge National Laboratory and Cornell University have discovered ways to markedly expand the stable range of the desired structure for the solar cell during temperature changes. The results could potentially revolutionize solar cell technology by speeding the process of designing solar cell materials that are both efficient and stable over a wide range of temperatures, while remaining inexpensive to produce in large quantities.
Read more at University of Virginia
Image Credit: University of Virginia
-jk-