Uber turns on electric vehicles in UK
The race for who will take the lead in the next generation of automotive technology is on, and Uber is kicking off a program that it hopes will help put it in pole position.
The transportation-on-demand behemoth is launching a new electric car service in the UK, in partnership with Nissan and China's BYD, where it will offer leasing and purchase options for fully-electric cars to its drivers, as well as include those vehicles in the mix of cars that it offers to passengers for journeys.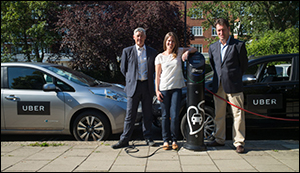 Uber is starting first with 50 vehicles in London and — if all goes as planned — it will expand the service to another UK city in coming months, and projects to have hundreds of all-electric vehicles on the roads in the UK by next year.
The partnership plays on some earlier forays that Uber has made into adding electric vehicles into its fleet. These include a trial that Uber started last year in Chicago, also with BYD, to offer electric cars as part of its UberX service, which offers rides in smaller, private-style vehicles for a lower cost than Uber's higher-end tiers.
Read more at TechCrunch
Image Credit: Uber
-jk-