UBC breakthrough opens door to $100 ultrasound machine
12. 9. 2018 | University of British Columbia | www.ubc.ca
Engineers at the University of British Columbia have developed a new ultrasound transducer, or probe, that could dramatically lower the cost of ultrasound scanners to as little as $100. Their patent-pending innovation—no bigger than a Band-Aid—is portable, wearable and can be powered by a smartphone.
Conventional ultrasound scanners use piezoelectric crystals to create images of the inside of the body and send them to a computer to create sonograms. Researchers replaced the piezoelectric crystals with tiny vibrating drums made of polymer resin, called polyCMUTs (polymer capacitive micro-machined ultrasound transducers), which are cheaper to manufacture.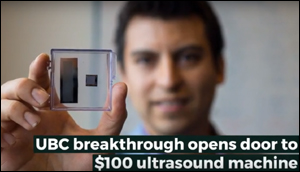 Sonograms produced by the UBC device were as sharp as or even more detailed than traditional sonograms produced by piezoelectric transducers, said co-author Edmond Cretu, professor of electrical and computer engineering.
Celý článek na University of British Columbia
Image Credit: University of British Columbia
-jk-