Tractor for Modern Farm Features Everything But the Farmer
Case IH, the agricultural-machinery unit of CNH Industrial NV, this week unveiled a sleek, aggressive-looking red-and-black machine at the annual Farm Progress Show in Boone, Iowa.
This tractor -- CNH calls it the Autonomous Concept Vehicle -- has one obvious difference compared with more conventional models: there's no cab for a driver. Instead, it comes equipped with cameras, radar and GPS, allowing a farmer to remotely monitor planting and harvesting via an app on a tablet computer.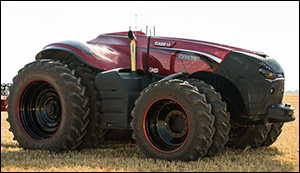 Dealing with the legal implications of self-driving tractors is one reason why it could take three years before they're commercially available. An example is how a farmer would go about moving the tractor from one field to another that may be across a road, since no one is physically driving it.
The 419-horsepower machine has a maximum speed of 31 miles per hour (50 kph). That's much bigger in scale and power than other autonomous concepts.
Read more at Bloomberg Technology
Image Credit: Case IH
-jk-