Toyota starts testing high-efficiency solar cells for electric cars
Toyota announced that it is starting to test new high-efficiency solar cells to be used on electric cars that could potentially boost the range by 35 miles (56 km) of range per day.
Over the years, Toyota has been trying to incorporate onboard solar panels in its electric car strategy. It was originally an option in the Prius, but it was only a 50-watt panel used to help run the AC fans and things like that. In 2016, the Japanese automaker brought back a $2,000 solar roof option for its new Prius plug-in hybrid and this version of the system was a little more powerful at 180 watts.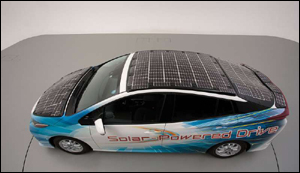 It could actually feed the battery pack used to power the car on electric-only, but it would only add a few miles. Now Toyota has partnered with NEDO and Sharp to start public road trials that will aim to "assess the effectiveness of improvements in cruising range and fuel efficiency of electrified vehicles equipped with high-efficiency solar batteries." The vehicle is equipped with extremely efficient solar cells that Toyota claims can convert solar power at a 34% rate.
Read more at Electrek
Image Credit: Toyota
-jk-