'Thousands' of self-driving Bolt EVs to be deployed next year
The 2017 Chevrolet Bolt EV is a crucial car for General Motors in more ways than one. With an EPA-rated 238-mile range and $37,495 base price (before federal, state, and local incentives), the Bolt EV considered a groundbreaking electric-car game changer.
But the Chevy hatchback is also GM's main platform for self-driving car development. GM subsidiary Cruise Automation is already testing prototype autonomous Bolt EV electric cars on public roads—and their numbers are about to grow.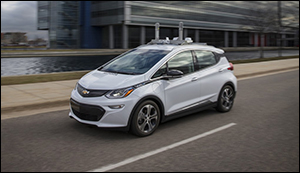 The automaker will deploy "thousands" of self-driving Bolt EVs in concert with Lyft next year, according to Reuters. This may be the largest test of fully-autonomous cars by a major automaker before 2020, when certain firms will begin ramping up efforts for autonomous production cars, the news service noted.
Read more at Green Car Reports
Image Credit: GM
-jk-