This Water-Jet Cutter Can Slice Through Anything
Wazer introduces the first desktop water-jet cutter, bringing CNC cutting technology out of the factory and into DIY workshops.
The company was founded by several young engineers who first met as students at the University of Pennsylvania. Water jets cut through material using a narrow, high-pressure stream of water that (typically) carries abrasive particles. While this is a standard industrial process, it's been limited to settings where there's plenty of room and even more money. The least expensive one starts at upwards of US $42,000.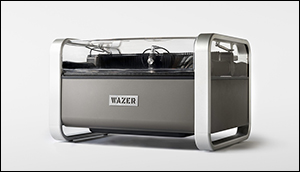 Industrial water jets operate at anywhere from 60,000 to 90,000 pounds per square inch (414,000 to 621,000 kilopascals). Engineers lowered the pressure so as to use off-the-shelf components from other industries. As a result, the Wazer cuts relatively slowly, but if you're not in industrial production, this shouldn't matter much.
The engineers at Wazer have designed their machine to run on 110 volts. Its 12-inch-by-18-inch (30-cm-by-46-cm) working bed is fully enclosed. The machine being offered on Kickstarter costs between US $3,599 and $4,499. Retail pricing will be $5,999 once the company goes into regular production late in 2017.
Read more at IEEE Spectrum
Image Credit: Kickstarter
-jk-