This Hybrid Electric Jet is Preparing for Takeoff in 2022
The aviation industry has made steady progress in cutting its fuel use and carbon emissions. Planes have become lighter, engines more efficient, and airlines are starting to use biofuel blends and to better manage their traffic flow in order to save money and reduce emissions.
Still, aviation produces about 2 percent of the world's carbon emissions. To reduce them further, Zunum Aero has a bold plan for a low-carbon flying future. The Kirkland, Wash.-based startup plans to deliver its first hybrid electric plane in 2022.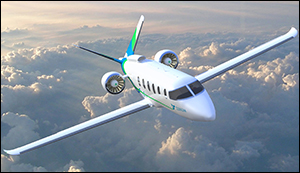 Zunum's business model is based on short commuter flights between small, regional airports. With that strategy in place, they plan to cut costs and door-to-door travel time. Flying from Boston to Washington, D.C. would cost $140 one way, the company predicts, and take around two and a half hours door-to-door, half as long as it takes now.
Read more at IEEE Spectrum
Image Credit: Zunum Aero
-jk-