This Battery Will Self-Destruct in 30 Minutes
Self-destructing electronic devices could keep military secrets out of enemy hands. Or they could save patients the pain of removing a medical device. Or, they could allow environmental sensors to wash away in the rain.
Making such devices possible is the goal of a relatively new field of study called "transient electronics." These transient devices could perform a variety of functions – until exposure to light, heat or liquid triggers their destruction. The latest development from the Iowa State University lab is a self-destructing, lithium-ion battery capable of delivering 2.5 volts and dissolving or dissipating in 30 minutes when dropped in water. The battery can power a desktop calculator for about 15 minutes.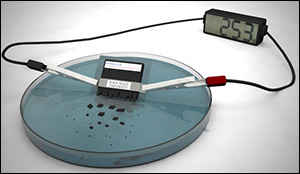 The battery itself is tiny – about 1 millimeter thick, 5 millimeters long and 6 millimeters wide. The battery components, structure and electrochemical reactions are all very close to commercially developed battery technology. But, when you drop it in water, the polymer casing swells, breaks apart the electrodes and dissolves away. The battery contains nanoparticles that don't degrade, but they do disperse as the battery's casing breaks the electrodes apart.
Read more at Iowa State University
Image Credit: Iowa State University
-jk-