Theoretical tubulanes inspire ultrahard polymers
Researchers at Rice University's Brown School of Engineering and their colleagues are testing polymers based on tubulanes, theoretical structures of crosslinked carbon nanotubes predicted to have extraordinary strength.
The Rice lab of materials scientist Pulickel Ajayan found tubulanes can be mimicked as scaled-up, 3D-printed polymer blocks that prove to be better at deflecting projectiles than the same material without holes. The blocks are also highly compressible without breaking apart. Scientists built computer simulations of various tubulane blocks, printed the designs as macroscale polymers and subjected them to crushing forces and speeding bullets. The best proved 10 times better at stopping a bullet than a solid block of the same material.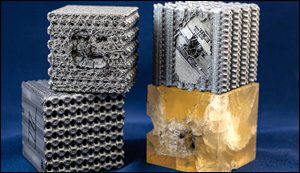 "The unique properties of such structures comes from their complex topology, which is scale-independent," said Rice alumnus Chandra Sekhar Tiwary, co-principal investigator on the project and now an assistant professor at the Indian Institute of Technology, Kharagpur. "Topology-controlled strengthening or improving load-bearing capability can be useful for other structural designs as well."
Read more at Rice University
Image Credit: Jeff Fitlow
-jk-