The world's first foldable phone
The Royole FlexPai is the sort of device that companies rush out when they feel the absolute imperative to be first with some new technology. I don't blame Royole — a five-year-old company literally founded for the purpose of developing and selling flexible displays.
Measuring 7.8 inches diagonally, this is an Android tablet in its extended mode which becomes two, not just one, Android phones when it's flexed closed. It provides two SIM slots and tries to provide an auto-detection system that only shows content on the half of the folded screen that you're facing at any given time. One of the two phones is assigned as the primary, and its content spills out onto the full tablet when the device is opened.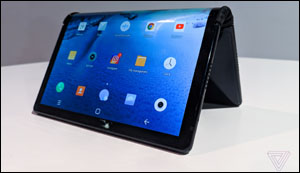 You get a 1920 x 1440 resolution on the full display, which shrinks to less than half when you're in phone mode, thanks in large part to the huge swath of disused OLED screen that wraps around the wide-arcing hinge. Still, a 308ppi pixel density is sufficient for the screen to look reasonably sharp. The bigger issue with it is that it's simply of poor quality. I noticed color banding, weird dim areas right in the middle of the screen, and the sort of hyper-saturation that was characteristic of Samsung's first and second-generation AMOLED screens from many years ago.
Read more at The Verge
Image Credit: Vlad Savov/The Verge
-jk-