The "Tesla of scooters" is finally available and it looks incredible
The Tesla of scooters is hitting the market this month and its price is just about as stunning as its high-tech features.
The Smartscooter, made by the Taiwan-based company Gogoro, is becoming available for pre-order on June 27. Priced at $128,000 in Taiwan's currency (or about $4,100 in US currency), the scooter is a steal. To make that deal even sweeter, the company is throwing in two years of free maintenance, one year of theft insurance and two years of free electric battery swapping from Gogoro's 32 charging stations in Taipei.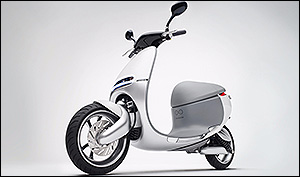 The high-tech scooter, which is completely electric and powered only by Gogoro's batteries, is helping make Taiwan ready for the next phase of transportation. It can be paired with your smartphone, features a digital display and comes with two removeable batteries, which give it a range of 60 miles. Gogoro's app can be used to program custom light patterns for headlights and taillights.  For example, when you start your scooter you can make the lights blink repeatedly. Rider's can also monitor their motor scooter from their smartphone app. 
The venture-backed company garnered a lot of attention for its futuristic scooter earlier this year at the Consumer Electronic Show in Las Vegas. Since then, the company has continued to attract fans.
Read more at Business Insider
Image Credit: Gogoro
-jk-