The shape of things to come: Flexible, foldable supercapacitors for energy storage
A team of researchers from the Plasma Physics Research Centre, Science and Research Branch of Islamic Azad University in Tehran, Iran, have discovered a way of making paper supercapacitors for electricity storage. At one sheet thick, these new supercapacitors can bend, fold, flex, and still hold electricity.
The term "supercapacitors" is reserved for devices that hold over 10 times as much energy per unit volume as a traditional capacitor, and that can charge and discharge quickly. Paper supercapacitors are lighter and cheaper than other types and those developed by lead author, Dr. Leila Fekri Aval's group are more flexible than earlier paper supercapacitors, giving them a whole new range of potential uses.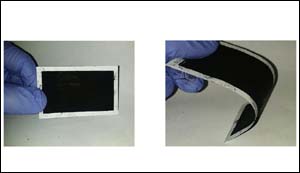 Today, if you need to store a large amount of energy, you will typically need to use large, heavy rechargeable batteries. Supercapacitors can do this too, but at a step up: They charge and discharge more quickly than conventional batteries -- in minutes rather than hours -- and they can be charged and discharged more times over their lifespan.
Read more at Science Daily
Image Credit: Heliyon
-jk-