The Revolution in Passive Cooling Begins
Versarien Technologies has launched a brand new range of 10 Low Profile Air Cooled Heat Sinks using the incredible new material VersarienCu™.
VersarienCu™ is the result of innovative metallurgy research performed at the University of Liverpool's Department of Engineering. It allows the creation of metallic materials with fine, open, interconnected pores which emulate structures commonly found in nature. This unique structure promotes thermal transfer levels that surpass anything that was previously possible.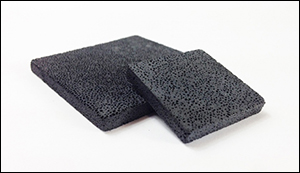 For further performance gains, the copper foam is coated with a thin, hard layer of high temperature copper oxide. This improves the emissivity of the foam to increase its radiant properties and reduces the temperature of the component. Testing shows that these heat sinks can outperform their comparable competitors by up to 6ºC/W, making this new range a major breakthrough in thermal management.
Read more at Versarien Technologies
Image Credit: Versarien Technologies
-jk-