The LSEV: 3-D printing for automobiles on a bolder scale
The Italy-based electric car company X Electrical Vehicle (XEV) and 3-D printing material company Polymaker organized a joint press conference at the China 3-D-Printing Cultural Museum earlier this month in Shanghai. The announcement: The first mass-producible 3-D-printed electric car.
This car, named LSEV, created by XEV, made news for car parts that were 3-D-printed with materials from Polymaker. This car's top speed is about 43 miles per hour. The range will be about 93 miles.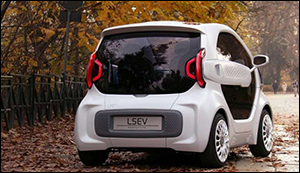 The success points for XEV include a decrease in plastic parts and number of components in a car, from more than 2,000 down to 57. The LSEV weighs 450 kilograms (992 pounds), lower than similar-sized vehicles. According to reports, the car will be available next year.
Read more at Tech Xplore
Image Credit: XEV
-jk-