The Hyperloop Is About to Test Its Wicked-Fast Propulsion System
The hyperloop is one small step closer to shuttling us around the country like paper flying through the pneumatic tubes banks used in the '60s.
Hyperloop Technologies, one of two known companies racing to make the sci-fi-ish transportation system a reality, announced today that it will test its propulsion system in North Las Vegas next month.
The system uses extremely low air pressure within a tube to propel capsules containing people or cargo at triple-digit velocities. Elon Musk came up with the idea and spelled out his ideas in a 57-page white paper he presented in August, 2013. He encouraged anyone with an interest to pursue the idea, since he's a busy guy.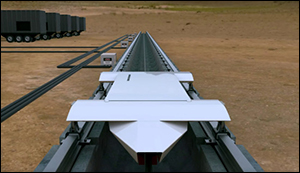 The guys at Hyperloop Technologies riff on the idea a bit. Rather than sucking a capsule through a tube like a stale Goldfish through a vacuum cleaner, its tech would keep the capsule moving with occasional shoves. Active stator coils built into the track react with magnets built into the capsule, boosting it through the tube. Low air pressure means minimal friction slowing the capsule, and evenly spaced stator coils keep it moving.
The test track in North Las Vegas is about half a mile long, with a few hundred meters of stater coils and a power generation trailers on hand. There's no capsule for this test, just the base it will ride on. It contains the magnets that do the pushing. The company predicts the "vehicle" will accelerate from zero to 336 mph in about two seconds.
Read more at Wired
Image Credit: Hyperloop Technologies
-jk-