The Czinger 21C Is A 3D-Printed Hybrid Hypercar With Outrageous Performance
After teasing its first car earlier in the month, US auto startup Czinger has now fully revealed the 21C. A hybrid hypercar powered by a twin-turbo, 2.88-liter V8 with electrical assistance from two motors powering the front wheels, the all-wheel-drive Czinger pumps out 1,250 horsepower and has a stratospheric redline of 11,000 rpm.
With a weight of 1,250kg, the 21C gets to boast about a 1:1 power-to-weight ratio. Given that, the car can hit 62 mph (100km/h) in 1.9 seconds, cover the quarter-mile in 8.1 seconds, hit 186 mph in 15 seconds, and reach 248 mph in 29 seconds. Czinger claims the car has a top speed of 268 mph.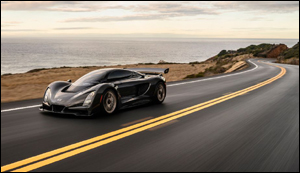 Designed and built in Los Angeles California by parent company Divergent, the 21C uniquely features a 1+1 seating layout, meaning the driver sits in the middle and there's space for one lucky passenger directly behind them. No doubt seen as an upstart rival to the Aston Martin Valkyrie, the Czinger 21C makes use of an innovative 3D printing process, and features a chassis made from alloy and carbon fiber.
Read more at Forbes
Image Credit: Czinger
-jk-