Tesla Gigafactory 3: land grading started at the site
A few days after announcing it secured a 210-acre piece of land for Gigafactory 3 in China, Tesla has reportedly also secured a loan to start building as land grading started at the site of the factory.
Sure enough, a first look at the site shows that land grading has already started at the location: In the video workers interviewed around the site said that the land was mostly used to grow watermelons and it was fenced in just over a month ago. They poured some concrete and installed water and sewage pipes where there's a tent. We can also see that heavy machinery is already on site to grade the land.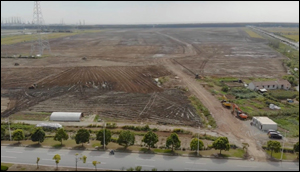 At the last earnings meeting, Tesla CEO Elon Musk said that local loans would be the company's primary way to finance the new factory, which he expects will cost about $2 billion just to get it to the initial production volume of about 200,000 units per year.
Read more at Electrek
Image Credit: Electrek
-jk-