Taking lithium-ion batteries to new extremes
Lithium-ion batteries (LIBs) perform best when the temperature range is just right—that is, neither too hot nor too cold. But this is a huge limiting factor when it comes to using LIBs in electric vehicles (EVs) in many locales where temperatures vary widely.
In a recent paper published in Nature Energy however, a group of UC Berkeley researchers report a novel invention that promises to effectively mitigate the effects of thermal extremes when used with LIBs. Their solution is "a fluid-free, passive thermal regulator that stabilizes battery temperature in both hot and cold extreme environments."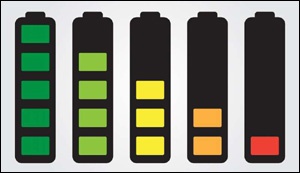 To achieve this effect, their passive thermal regulator design draws on two key nonlinear features from existing thermal regulator concepts. The first of these features is solid-state phase change, whereas the second feature is opening and closing of a thermal interface.
Read more at Tech Xplore
Image Credit: Public Domain
-jk-