Startup unveils 'car of future' for $45,000
The electric-powered concept car shown by Byton at the Consumer Electronics Show in Las Vegas is touted as a computing device on wheels, equipped with a "digital" lounge featuring a panoramic display acting as a hub for navigation, entertainment and even monitoring the health of its occupants.
The Byton car will use facial recognition to unlock and adapt to the driver and offer a range of other ways to interact including voice control with Amazon Alexa, touch and gesture. It will include 5G connectivity to the internet cloud and improve its functions with artificial intelligence.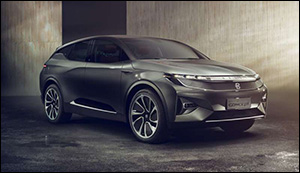 Byton said the car will have a range of more than 500 kilometers (300 miles) before needing a recharge and will be able to "top up" its battery in 15 to 30 minutes. It will be offered with "level 3" autonomy which enables some functions without a driver and be capable of "level 4" for near-autonomous function from 2020, according to the company.
Read more at Tech Xplore
Image Credit: Byton
-jk-