Starship Technologies launches testing program for self-driving delivery robots
Starting from July, millions of people will have a chance to encounter autonomous delivery robots on the pavements of the United Kingdom, Germany and Switzerland as part of the testing program announced by Starship Technologies and major industry partners. A similar program will be announced for the United States shortly.
The largest European food delivery company Just Eat, leading German parcel delivery company Hermes, leading German retailer Metro Group, and innovative London food delivery startup Pronto.co.uk will test the delivery robots developed by Starship Technologies, a company launched in 2014 by Skype co-founders.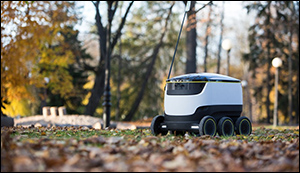 Robots developed by Starship Technologies are meant for delivering packages, groceries and food to consumers in a 2-3 mile radius. The robots can drive autonomously while being monitored by human operators in control centers. Introduced to European and American cities since the end of last year, the robots have already driven close to 5,000 miles and met over 400,000 people without a single accident.
Read more at Starship Technologies
Image Credit: Starship Technologies
-jk-