SpaceX's new test rocket briefly hovers during first free flight
SpaceX launched a test version of its next big rocket from Texas, sending the vehicle hovering in the air for a few seconds before it landed back on the ground. The hardware didn't get very high, but it was the first time the test vehicle flew detached from the ground, powered by SpaceX's next-generation rocket engine.
The vehicle is a test prototype of SpaceX's future, Starship rocket. Starship is the company's most ambitious vehicle concept yet: it's a fully reusable design intended to send cargo and people to deep space destinations like the Moon and Mars. Similar to SpaceX's Falcon 9 rockets, Starship is supposed to land upright — on Earth or on distant worlds — and then be able to take off again.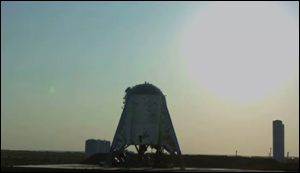 Starship still has a long way to go before it even gets to space, let alone lands on another planet. First, SpaceX wants to validate the basic design of the vehicle as well as its newly developed main engine, the Raptor. That's what this test was all about. Thanks to a single Raptor engine mounted on its base, the Starship test vehicle briefly flew above SpaceX's facility in Boca Chica, Texas, moved sideways, and then landed upright.
Read more at The Verge
Image Credit: SpaceX
-jk-