SpaceX launches third batch of Starlink satellites
SpaceX launched its third batch of 60 mini-satellites into orbit, part of its plans to build a giant constellation of thousands of spacecraft that will form a global broadband internet system.
The cluster of 60 satellites separated successfully from a Falcon 9 rocket above the ocean between Australia and Antarctica an hour after its launch from Cape Canaveral, Florida at 9:19pm (0219 GMT Tuesday). The satellite deployment brings the total number of satellites that are part of the US company's Starlink network to just under 180.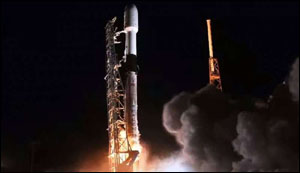 But that figure could one day total 42,000, resulting in far more crowded skies, which has raised concerns among astronomers that they may one day threaten our view of the cosmos. To put that into context, there are currently around 2,100 active satellites orbiting our planet, according to the Satellite Industry Association.
Read more at Phys.org
Image Credit: SpaceX
-jk-