SpaceX Dragon demo capsule returns to Earth
America's new commercial astronaut capsule has completed its demonstration flight with a successful splashdown in the Atlantic Ocean. The SpaceX Dragon vehicle left the International Space Station after being docked there for the past week, and re-entered Earth's atmosphere.
Four parachutes brought it into "soft contact" with water about 450km from Cape Canaveral, Florida. The mission - which had no humans aboard, only a dummy covered in sensors - went according to plan. The Dragon has set the stage for the US space agency Nasa to approve the vehicle for crewed flights.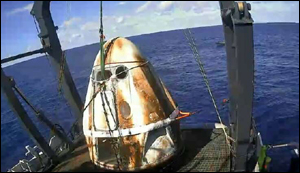 The first crewed flight of the Dragon could occur as soon as July, although this target date is likely to slip into the summer as engineers work through the post-flight analysis. Splashdown occurred at about 08:45 EST (13:45 GMT). A boat, called GO Searcher, was waiting to recover the capsule. There were cheers at mission control as the capsule landed in the Atlantic.
Read more at BBC News
Image Credit: NASA
-jk-