Solar-powered plane to soar again on round-the-world flight
Solar Impulse 2, an experimental aircraft flying around the world to draw attention to clean energy technologies, is to take flight again on Monday, organizers said.
Pilot Andre Borschberg will take off at 12:00 GMT (5:00AM PT) taking advantage of a "clear weather window" for him to fly from the Mojave Desert to Phoenix Goodyear Airport in Arizona—an effort that should take about 16 hours, they said.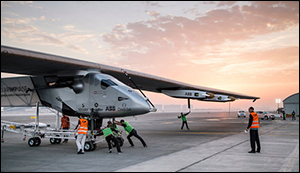 The plane has been in California for a week since crossing the Pacific to land in Mountain View. Swiss adventurer Bertrand Piccard piloted the craft from Hawaii to California. Piccard, who has been alternating the long solo flights with teammate Borschberg, has handed over to his teammate who will pilot Solar Impulse across the United States and to New York. The mission aims to promote the use of renewable energy, with an aircraft powered by 17,000 solar cells.
The solar-powered plane, which stores energy in batteries for when the sun is not shining, will stop in New York before a transatlantic flight to Europe. From there the pilots plan to make their way back to the point of departure in Abu Dhabi.
Read more at Phys.org
Image Credit: Solar Impulse
-jk-