Soft robotic hand can pick up and identify a wide array of objects
Robots have many strong suits, but delicacy traditionally hasn't been one of them. Rigid limbs and digits make it difficult for them to grasp, hold, and manipulate a range of everyday objects without dropping or crushing them.
Recently, CSAIL researchers have discovered that the solution may be to turn to a substance more commonly associated with new buildings and Silly Putty: silicone. At a conference this month, researchers from CSAIL Director Daniela Rus' Distributed Robotics Lab demonstrated a 3-D-printed robotic hand made out of silicone rubber that can lift and handle objects as delicate as an egg and as thin as a compact disc.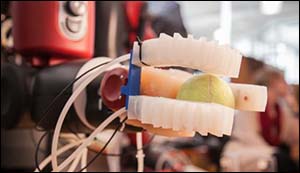 Just as impressively, its three fingers have special sensors that can estimate the size and shape of an object accurately enough to identify it from a set of multiple items. The gripper, which can also pick up such items as a tennis ball, a Rubik's cube and a Beanie Baby, is part of a larger body of work out of Rus' lab at CSAIL aimed at showing the value of so-called "soft robots" made of unconventional materials such as silicone, paper, and fiber.
Researchers say that soft robots have a number of advantages over "hard" robots, including the ability to handle irregularly-shaped objects, squeeze into tight spaces, and readily recover from collisions.
Read more at CSAIL
Image Credit: CSAIL
-jk-