Smart, self-powered ping-pong table
A team of researchers from China and the U.S. has built a smart, self-powered ping-pong table. In their paper published in the journal Nature Communications, the group describes how the table was built and how it powers itself.
As anyone who has ever watched a table-tennis match can attest, it is a game that moves very quickly—in some cases, too quickly for the human eye to see what happens. In professional or Olympic level games, such speed has necessitated the use of electronic sensors that can see rapid events human judges cannot, such as whether a ball hit the top edge or the side edge of the table. The distinction can make a difference in a match.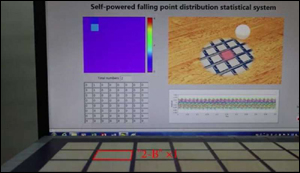 But such sensors must be powered by batteries, which, the researchers note, not only have a limited lifetime, but have negative environmental impacts. In this new effort, the researchers have found a new way to power the sensors by embedding triboelectric nanogenerators (TENGs) in the surface of the table, allowing the table to power itself. TENGS, the researchers note, can convert mechanical energy into electricity. Sensors in the smart table convert the mechanical energy of a ball impacts into electricity that is used to power sensors.
Read more at Tech Xplore
Image Credit: NPG Press
-jk-