Smart ink adds new dimensions to 3-D printing
Researchers at Dartmouth College have developed a smart ink that turns 3D-printed structures into objects that can change shape and color. The innovation promises to add even more functionality to 3D printing and could pave the way to a new generation of printed material.
The advancement in the area of form-changing intelligent printing - also known as 4D printing - provides a low-cost alternative to printing precision parts for uses in areas ranging from biomedicine to the energy industry.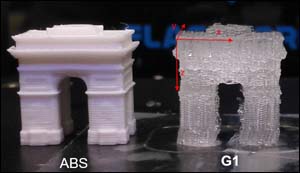 "This technique gives life to 3D-printed objects," said Chenfeng Ke, an assistant professor of chemistry at Dartmouth. "While many 3D-printed structures are just shapes that don't reflect the molecular properties of the material, these inks bring functional molecules to the 3D printing world. We can now print smart objects for a variety of uses."
Read more at Phys.org
Image Credit: Chenfeng Ke
-jk-