Small rockets are taking off
In mid-November, a company called Rocket Lab will try to send six small satellites into orbit around Earth—a fairly banal undertaking, save for the size of the launch rocket. It is only 17 meters (56 feet) tall and 1.2 meters (four feet) in diameter.
And if all goes well, the US company will send up more than one of its Electron rockets every month in 2019. Rocket Lab, which was created in 2006, completed a successful test flight in January and is expected this month to be the first of a new generation of companies to declare itself operational in the so-called "small launch industry."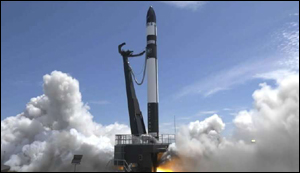 Like Rocket Lab, dozens of start-up companies are developing rockets adapted to send small, micro or nanosatellites—which weigh anything from a few kilos to a few hundred kilos (pounds)—into space. It's a whole new chapter for the "New Space Race," the latest industry revolution begun about a decade ago and based on private, not public, innovation—especially in the United States.
Read more at Phys.org
Image Credit: Rocket Lab
-jk-