Self-healing, flexible electronic material restores functions after many breaks
Electronic materials have been a major stumbling block for the advance of flexible electronics because existing materials do not function well after breaking and healing. A new electronic material created by an international team, however, can heal all its functions automatically even after breaking multiple times. This material could improve the durability of wearable electronics.
Self-healable materials are those that, after withstanding physical deformation such as being cut in half, naturally repair themselves with little to no external influence. In the past, researchers have been able to create self-healable materials that can restore one function after breaking, but restoring a suite of functions is critical for creating effective wearable electronics.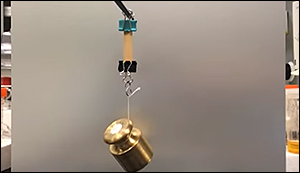 The material that the team of scientists created restores all properties needed for use as a dielectric in wearable electronics -- mechanical strength, breakdown strength to protect against surges, electrical resistivity, thermal conductivity and dielectric, or insulating, properties.
The material is able to self-heal because boron nitride nanosheets connect to one another with hydrogen bonding groups functionalized onto their surface. When two pieces are placed in close proximity, the electrostatic attraction naturally occurring between both bonding elements draws them close together. When the hydrogen bond is restored, the two pieces are "healed."
Read more at PennState
Image Credit: PennState/Youtube
-jk-