Self-healable electroluminescent devices
In a recent study, materials scientists Guojin Liang and his coworkers at the Department of Materials Science and Engineering, City University of Hong Kong, have developed a self-healing, electroluminescent (EL) device that can repair or heal itself after damage.
Inspired by the self-healing capacity of biological systems, the novel process paves the way for a range of new electronic applications. While EL devices are typically used in digital displays, backlights for control panels and wearable electronics, they are prone to damage. The fragility can restrict device working life, sustainability and reliability for long-term electronic applications.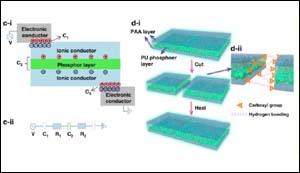 The first self-healing EL device developed in the study was constructed by using a modified self-annealing polyacrylic acid hydrogel for electrodes, coupled to self-healing polyurethane as a phosphor host for electric insulation. The scientists demonstrated that the physiochemical properties of device restoration could be maintained even after experiencing catastrophic damage. Such EL systems will have new and exciting next-generation applications as healing hydrogels and dielectric polymers in wearable devices. The work is now published on Light: Science & Applications.
Read more at City University of Hong Kong
Image Credit: Light: Science & Applications
-jk-