Self-assembling nanomaterial offers pathway to more efficient, affordable harnessing of solar power
Solar rays are a plentiful, clean source of energy that is becoming increasingly important as the world works to shift away from power sources that contribute to global warming. But current methods of harvesting solar charges are expensive and inefficient—with a theoretical efficiency limit of 33 percent.
New nanomaterials developed by researchers at the Advanced Science Research Center (ASRC) at The Graduate Center of The City University of New York (CUNY) could provide a pathway to more efficient and potentially affordable harvesting of solar energy.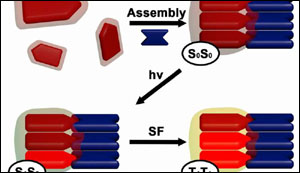 The materials, created by scientists with the ASRC's Nanoscience Initiative, use a process called singlet fission to produce and extend the life of harvestable light-generated electrons. The discovery is described in a newly published paper in the Journal of Physical Chemistry. Early research suggests these materials could create more usable charges and increase the theoretical efficiency of solar cells up to 44 percent.
Read more at Journal of Physical Chemistry
Image Credit: Andrew Levine
-jk-