See-through circuitry
High-performance electronic circuits made entirely from transparent materials could have countless applications, from head-up displays on car windscreens to transparent TV sets and smart windows in homes and offices. Researchers at KAUST have found a way to make transparent transistors and other essential components of electronic circuitry using inexpensive and readily available materials and a simple fabrication technique.
Indium tin oxide (ITO) is the current material of choice for electronics because it combines optical transparency with electrical conductivity. Its use ranges from touch-sensitive smartphone screens to light-harvesting solar panels. Indium is in short supply, however, and as demand increases for ITO-containing devices, so does the price of indium.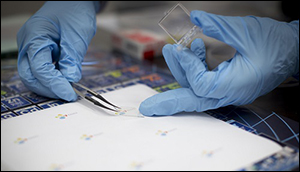 One promising low-cost ITO alternative is a transparent material known as aluminum-doped zinc oxide (AZO).
The team of scientists used a high-precision technology called atomic layer deposition, a process in which the circuitry is built up a single layer of atoms at a time. Volatile vapors of aluminum and zinc in the form of trimethyl aluminum and diethyl zinc were alternately introduced onto the transparent substrate, where they adhere to the surface in a single layer before reacting in situ to form AZO.
Read more at KAUST
Image Credit: KAUST
-jk-