Secure, sustainable, competitive and affordable energy for every European
Energy is used to heat and to cool buildings and homes, transport goods, and power the economy. But with ageing infrastructure, poorly integrated markets, and uncoordinated policies, our consumers, households and businesses do not benefit from increased choice or from lower energy prices.
It is time to complete the single energy market in Europe. Delivering on this top priority set out in President Juncker's political guidelines, today the European Commission sets out its strategy to achieve a resilient Energy Union with a forward-looking climate change policy.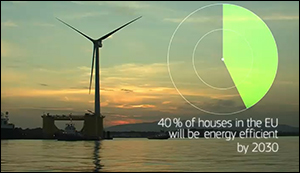 Miguel Arias Cañete, Commissioner for Climate Action and Energy said: "Let's get down to work. Today we have set the course for a connected, integrated and secure energy market in Europe. Now, let's make it happen. Our path to real energy security and climate protection begins here at home. That's why I will focus on building our common energy market, saving more energy, expanding renewables, and diversifying our energy supply. After decades of delay, we will not miss another opportunity to build an energy union. The Juncker Commission gets the big things right."
Key figures
The EU is the largest energy importer in the world, importing 53% of its energy, at an annual cost of around €400 billion.
12 EU Member States do not meet the EU's minimum interconnection target – that at least 10% of installed electricity production capacity be able to "cross borders". The EU has listed 137 electricity projects, including 35 on electricity interconnection: between them, these projects could bring that figure from 12 down to 2 Member States.
An appropriately interconnected European energy grid could save consumers up to €40 billion a year.
6 EU Member States are dependent on one single external supplier for all their gas imports.
75% of our housing stock is energy inefficient; 94% percent of transport relies on oil products, of which 90% is imported.
Over €1 trillion needs to be invested into the EU energy sector by 2020 alone.
Wholesale electricity prices in Europe are 30% higher, and wholesale gas prices over 100% higher, than in the US.
European renewable energy businesses have a combined annual turnover of €129 billion, employing over a million people. The challenge is to retain Europe's leading role in global investment in renewable energy.
EU greenhouse gas emissions fell 18% in the period 1990-2011.
By 2030, the EU aims to cut greenhouse gas emissions by at least 40%, boost renewable energy by at least 27%, and improve energy efficiency by at least 27%.
Press release here
Image Credit: European Commission
-jk-