Scientists develop material that could regenerate dental enamel
Researchers at Queen Mary University of London have developed a new way to grow mineralised materials which could regenerate hard tissues such as dental enamel and bone.
Enamel, located on the outer part of our teeth, is the hardest tissue in the body and enables our teeth to function for a large part of our lifetime despite biting forces, exposure to acidic foods and drinks and extreme temperatures. This remarkable performance results from its highly organised structure.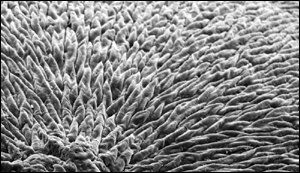 The study, published in Nature Communications, shows that this new approach can create materials with remarkable precision and order that look and behave like dental enamel. The materials could be used for a wide variety of dental complications such as the prevention and treatment of tooth decay or tooth sensitivity—also known as dentin hypersensitivity.
Read more at Phys.org
Image Credit: Alvaro Mata
-jk-