Samung Patented an Idea For Smart Contact Lenses
The patent – which was filed in South Korea — describes a contact lens where a small display unit is placed in the center. SamMobile reported that Samsung's smart contact lens also has a camera, an antenna and sensors that detects movements.
The camera built into the Samsung smart contact lens would be controlled by blinking. And the Wi-Fi antenna in the smart contact lens enables the wearable device to communicate with an external device to process data such as a smartphone or tablet. The blinking feature would work in a way that is similar to how Google Glass took photos when the user winked.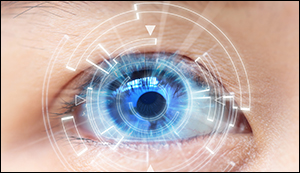 Why would Samsung build smart contact lenses instead of smart glasses? The patent application reveals Samsung is interested in smart contact lenses because of the limited image quality that is achievable by smart glasses. Plus smart contact lenses provide a more natural experience for augmented reality technology compared to smart glasses.
Read more at Forbes
Image Credit: Adobe Stock
-jk-