Rutgers Physicists Create New Class of 2D Artificial Materials
For decades, scientists thought it would be impossible to prove the theory by Philip W. Anderson, who shared the 1977 Nobel Prize in physics that says that ferroelectric metals could conduct electricity despite not existing in nature. It was like trying to blend fire and water, but a Rutgers-led international team of scientists has verified the theory and their findings are published online in Nature Communications.
"It's exciting," said Jak Chakhalian, a team leader of the study and Professor Claud Lovelace Endowed Chair in Experimental Physics at Rutgers University–New Brunswick. "We created a new class of two-dimensional artificial materials with ferroelectric-like properties at room temperature that don't exist in nature yet can conduct electricity. It's an important link between a theory and an experiment."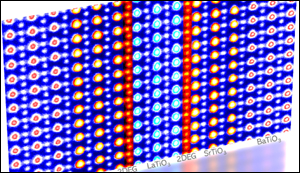 A cornerstone of technology, ferroelectric materials are used in electronics such as cell phone and other antennas, computer storage, medical equipment, high precision motors, ultra-sensitive sensors and sonar equipment. None of their materials conducts electricity and the Rutgers-led findings potentially could spawn a new generation of devices and applications, Chakhalian said.
Read more at Rutgers University
Image Credit: Zhen Wang and Yimei Zhu
-jk-