Russia launches a new space telescope
Russia launched a space telescope Spektr-R from the cosmodrome in Baikonur, Kazakhstan, in a joint mission with Germany intended to map X-rays across the sky and replace a project lost in January.
The launch of the scope, weighing more than 2.7 tonnes, was originally scheduled for June 21 but was postponed twice because of a battery problem. The Spektr-RG, developed with Germany, is a space observatory intended to replace the Spektr-R, known as the "Russian Hubble", which Roskosmos said it lost control of in January.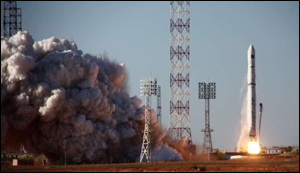 The telescope's research mission is set to last for six-and-a-half years including a four-year scan of the heavens and the remainder spent observing objects in space "at the behest of the international scientific community," the agency statement said. It will take some three months to reach its destination, an observing position some 1.5 million kilometres (900,000 miles) above Earth.
Read more at Phys.org
Image Credit: Roskosmos
-jk