Rolls-Royce Plans 'Mini' Nuclear Power Plants By 2029 Delivered In Chunks Via Trucks
'Mini' nuclear reactors delivered in prefabricated chunks on the back of trucks and assembled cost effectively onsite could become a reality by 2029, according to Rolls-Royce.
The British blue chip, known globally for its aviation, shipping and land power applications, said Friday (January 24) the Small Modular Reactor (SMR) consortium it leads is confident of achieving such a reality in the U.K. within the decade to address growing demand for electricity in a low carbon setting.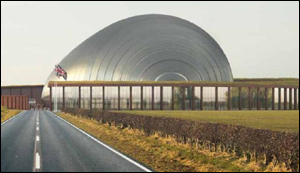 The initial proposal is to install the SMRs at former British nuclear sites in Cumbria or Wales with the ultimate objective of building 10 to 15 of the stations in the U.K. Giving details, a spokesperson said the required plant area would be about 1.5 acres, at the heart of a wider 10 acre operations site.
Read more at Forbes
Image Credit: Rolls-Royce
-jk-