RoboCab Driverless Taxi Experiment to Start in Japan
Robot Taxi Inc. said it will invite local residents to try out an experimental self-driving taxi on public roads early next year.
The Tokyo-based firm, which aims to set up a driverless taxi service in the future, said the residents will be able to take a robot taxi to a supermarket about 3 km from their homes. An attendant will need to sit in the driver's seat for safety reasons. The Kanagawa Prefectural Government said it has conducted experiments with automated cars on expressways before, but this experiment will be the first to use local roads and residents.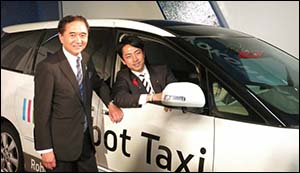 "This time, the robot taxi experiment will be conducted on actual city streets. I think this is quite amazing," said Kanagawa Gov. Yuji Kuroiwa at a media launch in Yokohama. He added that the prefecture will spearhead an effort to realize self-driving technology in future.
Robot Taxi President Hiroshi Nakajima said it is probably the first test worldwide of an automated car that offers actual residents a chance to go to shopping. The firm said it will conduct a separate experiment in Sendai on how the driverless car can be used in the event of natural disasters. A further research project will take place in Nagoya.
Read more at The Japan Times
Image Credit: Robot Taxi
-jk-