Revolutionary Optical Material
An international team of researchers has reported a new way to safeguard drones, surveillance cameras and other equipment against laser attacks, which can disable or destroy the equipment. The capability is known as optical limiting.
The work, published in the journal Nature Communication, also describes a superior manner of telecom switching without the use of electronics; instead, they use an all-optical method that could improve the speed and capacity of internet communications. That could remove a roadblock in moving from 4GLTE to 5G networks.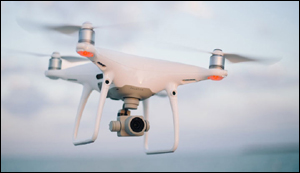 The team reported that a material created using tellurium nanorods – produced by naturally occurring bacteria – is an effective nonlinear optical material, capable of protecting electronic devices against high-intensity bursts of light, including those emitted by inexpensive household lasers targeted at aircraft, drones or other critical systems. The researchers describe the material and its performance as a material of choice for next-generation optoelectronic and photonic devices.
Read more at University of Houston
Image Credit: Josh Sorenson/Pexels
-jk-